The stunning detail of PolyJet 3D printing technology is even better now with the new Objet Eden260VS printer. It retains the fine detail of 16-micron layers, but allows for delicate details and internal structures that simply weren't possible before.
The difference is SOLUBLE SUPPORT. 3D printed parts need support structure for overhangs and internal voids, with those supports being removed after the print completes. With PolyJet, this means a water jet will remove the supports, but this process can damage very thin details. That's no longer a problem with the use of soluble supports. The part goes into a gentle bath that dissolves away the supports--even from small internal cavaties--automatically.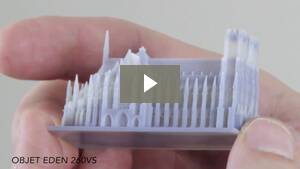 This new printer is perfect for architects seeking the ultimate in fine-feature detail, both in the structure and even environmental features to make more realistic presentation models. For prototyping, designers have a powerful new tool that retains the smallest intricate details in the final printed part.
Watch the video for more information and examples of part files printed on the new Objet Eden260VS 3D printer. This printer offers several Vero colors with soluble support and a 10"x10"x8" build size. The printer can run other materials, such as rubber-like Tango, with traditional support.
---